San Diego, known for its beautiful beaches and sunny weather, has become a hub for innovative architecture and interior design. Polished concrete has gained popularity in recent years for its aesthetic appeal and functional benefits. Polished concrete is a sustainable and durable flooring option that is highly customizable, offering a range of colors, finishes, and textures. It is ideal for various commercial and residential spaces, from retail stores and restaurants to homes and offices. San Diego's demand for polished concrete has increased as more people seek sustainable, low-maintenance flooring options. In this article, we will explore the benefits of polished concrete in San Diego and showcase some of the fantastic projects that have incorporated this versatile material.
Durability and Low Maintenance
Durability is one of the essential aspects of polished concrete. It is solid and resilient and can withstand heavy foot traffic over long periods without showing signs of wear. This makes it an ideal choice for commercial and industrial spaces, where it can stand up to a high activity level and still look great. In addition, polished concrete offers excellent resistance to stains, spills, and other damages, ensuring that it will look great for many years.
Low maintenance is another great benefit of polished concrete. It is easy to clean and maintain and does not require frequent waxing or other treatments to keep it looking its best. This makes it ideal for busy commercial and industrial spaces, where a single person or a small team can easily maintain it. Additionally, polished concrete does not require special sealants or coatings to maintain its appearance, making it a cost-effective flooring choice for any space.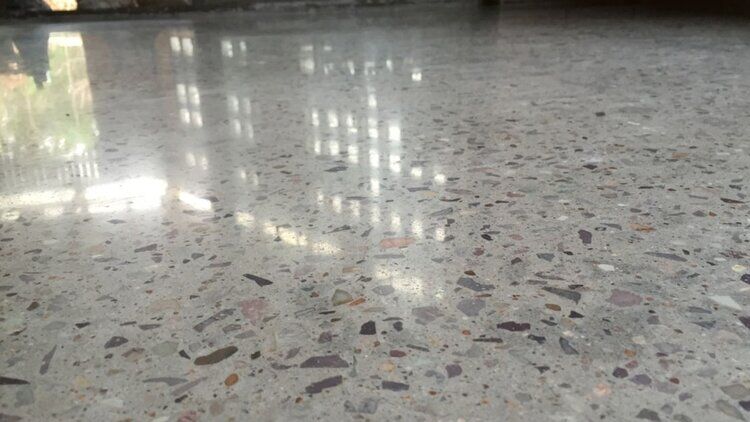 More accessible to Clean and Maintain
Polished concrete is one of the most popular flooring options for both residential and commercial properties. This flooring is relatively easy to clean and maintain, making it an excellent choice for busy households and businesses. Cleaning polished concrete is simple and requires only a mop, broom, vacuum, and mild detergent. Depending on the level of shine, a light buffing with a soft cloth may be needed to restore the polished look. Regular cleaning and buffing should be done to maintain the finished look.
Maintenance of polished concrete is also reasonably straightforward. The concrete should be resealed every two to three years to keep the floor looking its best. This is especially important in high-traffic areas, as the sealant can help protect against wear and tear. The sealant also helps protect against staining and makes cleaning the floor easier. Additionally, cleaning spills as soon as they occur can help protect against staining, which can be challenging to remove from polished concrete. Overall, polished concrete is an excellent option for low-maintenance flooring.
Increased Lifespan and Value
Polished concrete is becoming increasingly popular for its many advantages, including its durability and long lifespan. Polished concrete is often used in commercial and industrial spaces that see a lot of foot traffic and need a flooring material that can withstand wear and tear. The process of polishing concrete involves grinding down the surface of the concrete to create a smooth and glossy finish that is resistant to staining and scratching. Polished concrete is also moisture-resistant, making it an ideal choice for areas prone to water and flooding. Polished concrete can last up to three times longer than other flooring materials, making it an excellent investment for any property owner. Polished concrete is also known for its aesthetic appeal and can be a great way to add value to any property.
Slip Resistance of Polished Concrete
To maximize the slip resistance of polished concrete, it is essential to understand the various treatments and techniques available to increase its coefficient of friction. The most common method for increasing slip resistance is using a concrete grinding process, creating a rougher surface with increased traction. This process can be done using diamond grinding tools to create micro-fissures on the surface of the concrete. Another option to improve slip resistance is to use a chemical sealer, which will provide a textured finish to increase traction. Additionally, a slip-resistant additive can be mixed with the concrete before it is poured to help create a more slip-resistant surface.
It is important to note that no matter what treatments or techniques are used, the slip resistance of polished concrete will depend on the concrete mix and the degree of polish. Concrete mixes with larger particles will be more slip-resistant than smaller ones. Additionally, the higher the degree of polishing, the smoother the surface and, thus, the lower the coefficient of friction. If a high degree of slip resistance is desired, using a concrete mix with large particles and a low degree of polishing is essential.
Environmental Benefits of Using Polished Concrete
Polished concrete is becoming an increasingly popular choice for flooring due to its many environmental benefits. Polished concrete reduces energy consumption, reduces carbon dioxide emissions, and can be used in a range of sustainable construction projects. Polished concrete is made from existing concrete slabs, which means no new material needs to be manufactured, cutting down on the environmental impact of traditional flooring materials. Additionally, the process of polishing concrete significantly reduces the energy required to light and heat a space, as the reflective surface of polished concrete reflects natural light, allowing for more efficient use of energy. Additionally, the durability of polished concrete means that it cannot be scratched or damaged easily. Hence, it requires no additional chemical treatments or sealants that can release volatile organic compounds into the environment. Finally, polishing concrete requires very little water compared to other flooring materials, such as ceramic tile, which requires large amounts of water for installation. This means that polished concrete is a much more sustainable choice for flooring.
How Polished Concrete Enhances San Diego Home/Businesses Interiors
Polished concrete is an excellent choice for adding a modern and contemporary look to the home and business interiors in San Diego. The glossy concrete finish can be customized to various colors, patterns, and textures, giving interior spaces a unique and stylish look. Polished concrete also adds a touch of luxury to any interior. The smooth, glossy finish of polished concrete adds a modern, sophisticated feel to any room. It can be customized with dyes, stains, and patterns to create a unique look that reflects the homeowner's or business owner's individual style. Polished concrete is also an environmentally friendly choice and can be an excellent choice for businesses that strive to be green. Polishing concrete uses fewer chemicals than traditional flooring materials, and it is a long-lasting solution that can reduce the need for replacement over the years.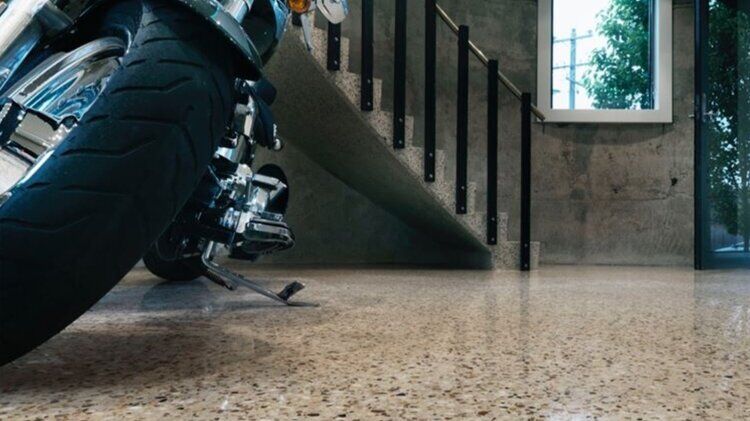 Can polished concrete be used in outdoor spaces like patios or walkways?
Polished concrete can be used in outdoor spaces such as patios or walkways in San Diego. However, like any outdoor flooring option, polished concrete may require additional maintenance and protection to ensure longevity and safety. San Diego has a mild climate with low humidity, making it ideal for using polished concrete in outdoor spaces. However, exposure to sunlight and UV radiation can cause the polished concrete to fade and lose its shine over time, so it's essential to apply a protective sealer to prevent this. In addition, slip-resistant additives may be required in the concrete mix to ensure safety, especially in areas that may become wet or slippery. Consulting with a professional concrete polishing contractor in San Diego can help determine the best practices for using polished concrete in outdoor spaces.
Does the Reflective surface of polished concrete impact natural lighting in interior spaces?
The reflective surface of polished concrete can impact natural lighting in interior spaces. The level of impact will depend on various factors, such as the type of finish, the color of the concrete, the orientation of the building, and the surrounding environment.
Polished concrete has a high level of reflectivity, which means it can bounce light around the room, creating brighter and more evenly lit spaces. This can be beneficial in areas that require high levels of natural light, such as offices or art galleries.
On the other hand, highly reflective surfaces can also create glare and hot spots, which can be uncomfortable for occupants and cause eye strain or headaches. In addition, highly reflective surfaces can increase energy usage by reflecting sunlight into the space, causing the need for more artificial lighting to maintain a comfortable illumination level.
To mitigate these issues, it's essential to consider the orientation of the building, the surrounding environment, and the use of shading devices or diffusers to control the amount and direction of natural light entering the space. Additionally, the selection of colors and finishes can also affect the level of reflectivity, with darker and matte finishes being less reflective than lighter colors and high-gloss finishes.
Conclusion
In conclusion, Apex Polished Concrete has become a leading provider of high-quality and sustainable polished concrete flooring solutions in San Diego. With a team of experienced professionals, they have transformed numerous spaces into beautiful and functional environments that are both visually stunning and easy to maintain. Whether a commercial or residential project, Apex Polished Concrete takes a personalized approach to each job, ensuring that the final product exceeds its client's expectations. Their commitment to eco-friendly materials and techniques makes them an excellent choice for sustainable flooring. With the growing demand for polished concrete in San Diego, Apex Polished Concrete is poised to continue providing innovative and cost-effective flooring solutions for years.