Are you looking to transform your floors with a modern, stylish look? Concrete polishing services in San Diego can help. This process uses special machines and diamond-infused pads to grind down the surface of concrete, creating a smooth finish that is both aesthetically appealing and highly durable. With this service, you'll be able to enjoy beautiful floors without having to worry about them cracking or chipping over time. Plus, polished concrete will be easier to clean and maintain than traditional methods. Read on for more information on how concrete polishing services in San Diego can help bring new life into your home or business!
The Benefits of Concrete Polishing Services in San Diego
Concrete polishing services in San Diego can offer a range of benefits to property owners who are looking to improve their floors. With the help of polished concrete, you can transform your dull and dingy floor into something that is both stunning and functional. Polished concrete provides an attractive finish with long-lasting durability, making it ideal for areas such as commercial lobbies, retail stores, and office buildings.
One of the biggest advantages of polished concrete is that it is low-maintenance and requires no waxing or re-coating. Additionally, it can help to reduce the amount of dust in the air by forming a tight seal. This means less time spent cleaning and more time enjoying your newly transformed floor.
Polished concrete is also highly durable and resistant to stains and scuffs, making it ideal for high-traffic areas. This makes it a great choice for commercial applications as well as residential settings. It is also environmentally friendly since the process does not require any harsh chemicals or additional sealants.
The Concrete Polishing Process
Concrete polishing services in San Diego use different steps to transform your floors. The process begins with a grinding machine that uses diamonds and other abrasives for cutting and grinding the floor surface. This helps level out any irregularities on the surface, such as divots and cracks. Next, a densifier is applied to the concrete which will help harden and seal the concrete. Finally, a polishing machine is used to apply a special polishing compound, which is left on the surface for several minutes before being removed with water. The result of this process is a glossy and polished floor that is highly durable and easy to maintain.
The concrete polishing process usually takes between four to seven days, depending on the size of the area being polished. On day one, a grinding machine is used to cut and grind down the surface of the concrete, leveling out imperfections and creating a base layer for polishing. Day two involves applying a densifier to the floor to harden and seal the concrete. On day three, a polishing machine is used to apply a special polishing compound. This material will be left on the surface for several minutes before being removed with water. Finally, on day four or five a sealer is applied to provide additional protection against staining and wear.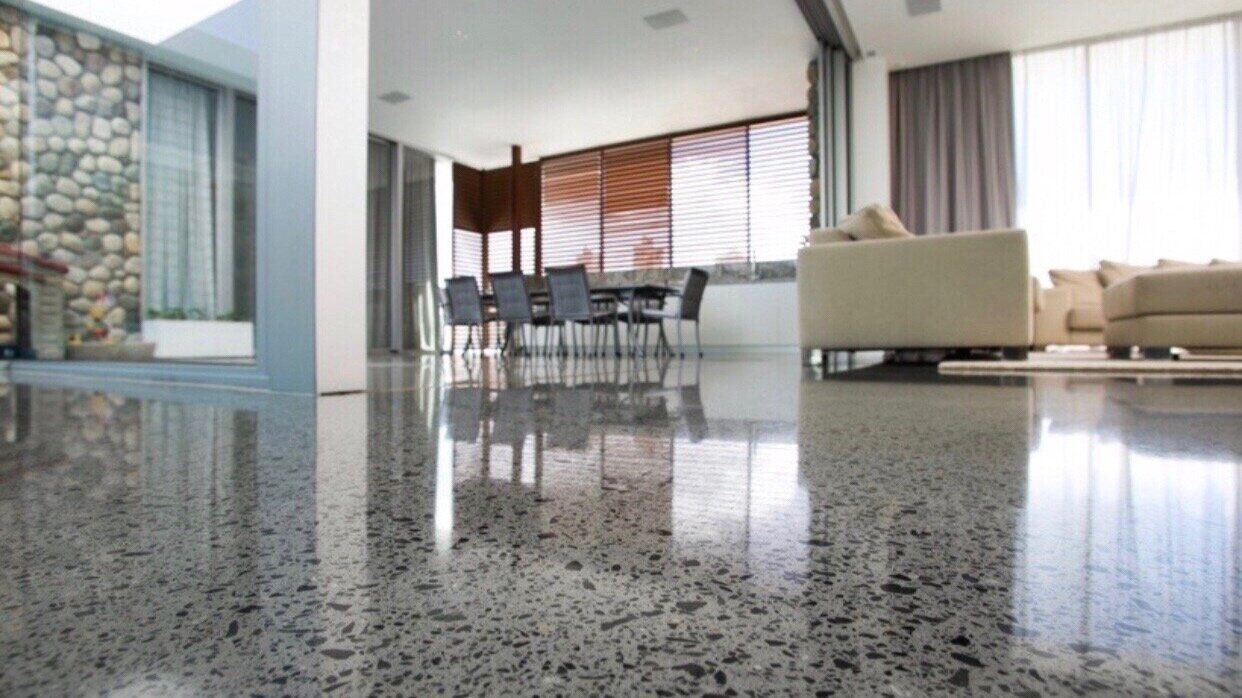 Types of Concrete Polishing Services
Concrete polishing services in San Diego come in a variety of styles, each tailored to the needs of the client and the project at hand. For instance, those who are looking for an attractive floor finish may opt for a polished concrete floor that is stained or tinted and sealed with a clear coating. This type of finish can be customized to add an element of style and sophistication to any space.
For those who are interested in the durability and resilience that comes with a polished concrete floor, honed concrete is another popular option. This type of finish provides a smoother surface and more consistent sheen than stained or tinted options but without sacrificing the level of protection from wear and tear. Honed concrete floors are ideal for high-traffic areas and require minimal maintenance to keep them looking their best.
Finally, some may opt for an epoxy coating which can be applied over polished or honed concrete surfaces. This type of finish provides unparalleled protection against moisture and staining while also enhancing the overall look and feel of any space. Epoxy coatings are a great choice for areas that may be exposed to frequent and intense foot traffic, such as lobbies or retail stores.
Which type of concrete polishing service is best for different types of floors?
When it comes to concrete polishing services in San Diego, there are several types of treatments available. Depending on the surface and desired results, certain processes may be more beneficial than others.
For a glossy finish, honing is usually recommended. The process involves grinding the floor surface with a special machine to create a smooth texture and then polishing it with a specialized concrete polishing compound. Honing produces a reflective shine that can add a polished look to any room.
For surfaces that require more of an anti-slip texture, surface grinding is used. This technique involves using diamond blades or rotary machines to remove a thin layer of concrete on the floor surface in order to create a profile for traction. This type of treatment is ideal for high traffic areas where slips and falls could occur.
For floors that need a little more protection, sealants can be applied. These sealants create a protective barrier on the floor surface that makes it easier to clean and provides extra protection against staining and spills.
For surfaces that require a more natural look, staining can be used to add color and dimension to your floors. Staining is done using a dye or acid-based solution applied with a brush or sprayer. The process allows you to customize the floor with a unique color and design.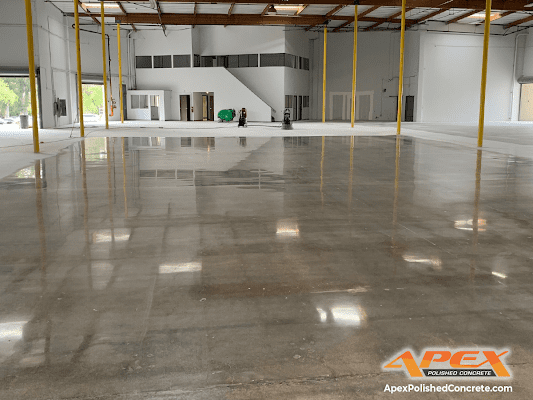 Conclusion
Concrete polishing services in San Diego provide a variety of options for transforming your floors. From honing to staining, each type of treatment has its own set of benefits and can help to create the perfect look for any space. Whether you're looking for an anti-slip finish or just want to add some color and style to your floors, there's a concrete polishing service for you. The key is to find the right type of treatment for your needs and budget. With the help of a professional, you can make sure that your floors look their best for years to come.
At APEX Polished Concrete, we offer a comprehensive range of high-quality concrete polishing services. Our experienced team will work with you to devise the perfect solution for your project and provide you with an end result that is sure to exceed your expectations. Contact us today at (858) 799-0303 to learn more about how our services can help transform your floors.