If you are looking for a durable, attractive, and cost-effective flooring option for your home or business in San Diego, concrete polishing is a perfect choice. This service utilizes special diamond abrasives to grind down existing concrete surfaces until they become smooth and glossy. Not only does this process create an aesthetically pleasing look, but it also provides several practical benefits that make it well worth the investment. Here are some of the advantages of investing in professional concrete polishing services in San Diego.
Why concrete polishing is a great option for businesses and homeowners?
Concrete polishing is an ideal choice for businesses and homeowners who are looking to enhance the look of their property. It provides a glossy, glamorous finish that improves the aesthetic appeal of any area. Polished concrete also has various advantages over other flooring materials due to its superior durability, low maintenance, and affordability.
In addition to creating a beautiful finish, polished concrete also offers numerous practical advantages. The smooth surface is stain-resistant and easy to clean and maintain. It's also highly resistant to wear and tear, meaning that it will keep its shine for years with only minimal maintenance. The process of polishing concrete goes far beyond just adding a glossy look to a surface; it also helps to seal and protect the concrete from damage, making it more resistant to staining and spills.
Polished concrete can increase property value.
By making a space look more aesthetically pleasing, polished concrete can increase the value of a property. This is because it gives the area an updated, modern look without having to make major repairs or invest in expensive renovations. Additionally, as polished concrete requires minimal maintenance and is extremely durable, long-term savings on upkeep costs can be reaped by opting for this type of flooring.
Polished concrete can also improve air quality. By using eco-friendly polishing compounds, volatile organic compounds (VOCs) are eliminated from the area and replaced with a clean, fresh scent. This can make the space much more pleasant to work in and be in overall. Furthermore, polished concrete is also slip-resistant, so it can help to keep people safe and secure.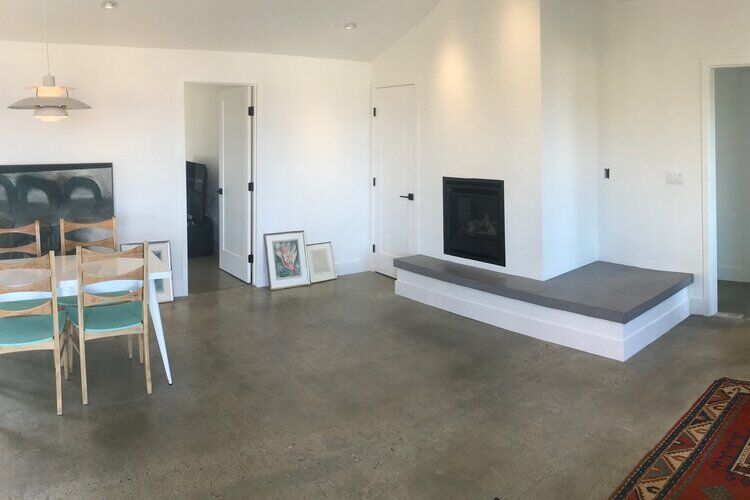 The durability and strength that comes with polished concrete.
Polished concrete is extremely durable, making it an attractive option for even the busiest of spaces. Not only does polished concrete have incredible strength, but the surface is also highly resistant to abrasion and impacts. This makes it ideal for areas with high foot traffic such as restaurants, retail stores, and office buildings. The shine that comes with a polished concrete floor is also an attractive feature that can give an area a modern and sleek look.
The longevity of polished concrete is another reason why it is such a great choice for San Diego businesses. The highly durable surface resists staining, cracking, fading, and discoloration over time, making it perfect for areas with long-term usage. The shine of polished concrete also adds a layer of protection that can help to shield the floor from further wear and tear over time.
The environmental benefits of using a green-friendly method to polish concrete.
Concrete polishing services in San Diego are becoming increasingly popular due to their environmentally friendly methods. The use of concrete polishing is an effective way to reduce the environmental impact and carbon footprint that traditional flooring options such as carpet and vinyl can have. Through using diamond-abrasive technology, floor coatings are removed and reused for multiple polishing projects, while producing very little dust during the process.
This helps to reduce air pollution and maintain a healthier environment for all. Furthermore, as there are no chemicals or other abrasives used in the process, concrete polishing services help create a cleaner indoor environment by reducing VOCs and other hazardous particles that can be released into the atmosphere.
The different types of finishes available when it comes to polishing concrete.
Polishing concrete can produce a wide range of finishes, depending on the size and type of equipment used. From high-shine gloss to satin, matte, or even polished aggregate finishes, you can get almost any look you are hoping for when it comes to your San Diego concrete polishing needs.
There are a few key types of finishes to consider when it comes to concrete polishing. One of the most popular is a high-gloss finish, which produces an extremely shiny surface that reflects light and can be very aesthetically pleasing. This type of polished concrete also offers superior stain resistance and durability over other types of finishes. Another option available in San Diego for polished concrete is a satin finish, which produces a less reflective look than a high-gloss finish. Satin polishes are often used in both residential and commercial applications because of the subtle, yet elegant look it can provide.
Matte finishes are also an option for concrete polishing in San Diego, although this type of finish is slightly more difficult to achieve as it requires specialized equipment and techniques. Matte finishes offer a softer, more natural appearance than other types of polished concrete. Polished aggregate finishes are available as well and produce a unique look by exposing the aggregate used in the concrete mix. This type of finish can be great for driveways or walkways where slip resistance is an important factor.
Final Thoughts
Concrete polishing services in San Diego can be a great way to upgrade the look and feel of your commercial or residential space while also providing a durable, environmentally friendly option. With the wide array of finishes available, you are sure to find one that matches the aesthetic you're looking for. And with its ability to reduce wear and tear, reduce VOCs, and provide a long-lasting shine, polished concrete is sure to be an asset to any area it's used in.
At APEX Polished Concrete, we specialize in delivering high-quality concrete polishing services for businesses and homes throughout San Diego. Contact us today at (858) 799-0303 to learn more about our process and how it can benefit your space. We look forward to helping you create the perfect polished concrete floor!